This is Part 2 of our 2 pat series looking at the common questions people ask about Botox, you can read part 1 here.
What will happen to the moderate to severe frown lines between my brows if I choose not to continue treatments?
If you do not continue treatments, the moderate-to-severe frown lines between your brows will gradually return to the way they looked before treatment.
Do treatment results differ?
Yes, individual results may vary. To get the best results, it's important to go to a practitioner who is experienced in administering Botulinum Toxin.
Common treatment areas with Botox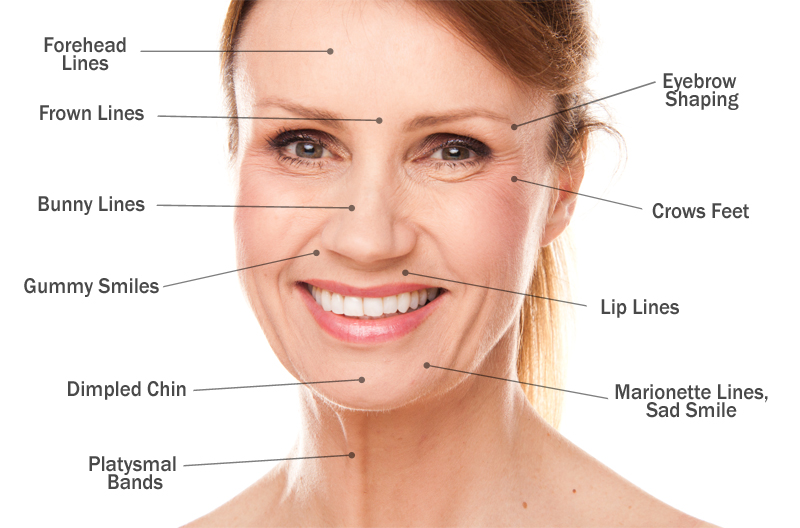 How long does treatment with Botox® last?
The results from treatment with Botox® usually last around three to four months. If you did not continue with regular Botox® treatment, your lines would eventually come back to the level they were at prior to your treatment. As lines become softer and the muscles less active, regular clients find they may need Botox® less frequently than every four months.
Does treatment with Botox® hurt?
This non-surgical treatment is done using very small, fine needles and local anaesthetic cream may be applied to the skin to make your experience as comfortable as possible. After having the treatment you will be able to get straight back to your everyday tasks without having to miss out on work or any social occasion.
Is Botox ® suitable for everyone?
Botox® is very safe and has been used by qualified clinicians for many years. However, we are not able to use Botox® in an area where there is a skin infection present or in individuals with known allergies to any of the ingredients in the wrinkle relaxing injection. Patients with neuromuscular disorders such as Myasthenia gravis or Bell's palsy  may be at increased risk of serious side effects and should avoid Botox treatments. We would not advise Botox® treatment to those who are pregnant or breast feeding.
What are the injections like?
We thought probably the easiest way to let you know what the injections are like is to show you! Here's a video which you may find helpful:
Further information about Botox can be found here
Complimentary Consultation
At Skin Solutions each patient is offered a free consultation. Sonal will:
Discuss all the options available to you for great skin
Recommend the most suitable treatment or combination of treatments that will suit you and your lifestyle
Look after your skin needs with a professional and caring manner
Take the time to get to know you, and treat you as an individual
Offer meticulous attention to detail
Produce results that are natural and subtle, restoring your confidence
Ensure you are kept informed during every step of the journey